by: BLAKE LYNCH 
More than 20 billion LEGO bricks are made each year in the LEGO factory located in Billund, Denmark. These sets go on to be used in a variety of ways, with one scientist suggesting that there are over 915 million ways to combine six blocks. Many people use LEGOs to assemble a variety of miniature vehicles, structures, and toys. In 2018, a teenager in Andorra who was born with a deformed right arm used LEGOs to build a prosthetic limb.[1]
Unfortunately and perhaps surprisingly, LEGOs have been involved in a number of fiendish (sometimes hilarious) plots. While this might seem hard to believe, this article will review ten of the most startling ways in which LEGOs were used illegally.
10. The LEGO Star Wars Bandit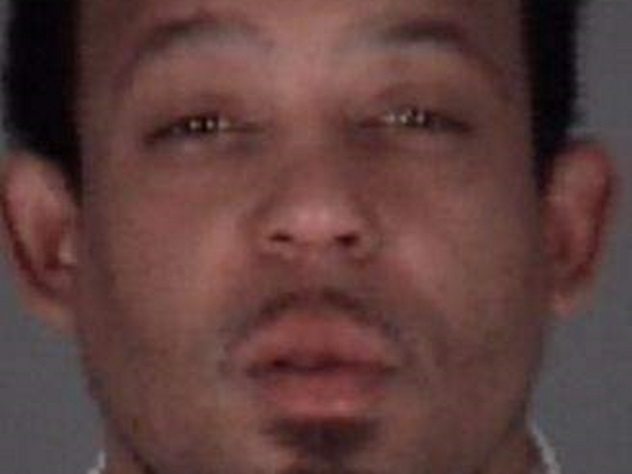 Photo credit: Tampa Bay Times
Over the last few decades, Star Wars has played an important role in LEGO history. The Star Wars brand marks the first intellectual property that was licensed by the LEGO Group. With each new Star Wars film, the toymaker releases brand-new sets of LEGOs. Some of the sets have become very expensive, including LEGO's Millenium Falcon 75192, which currently sells for $800.
To take advantage of this Star Wars LEGO craze, a man from New Jersey traveled across the country stealing LEGO Star Wars sets to buy cocaine in 2016. The method that Shannon Kirkley used to steal the LEGO sets involved placing them in a cardboard treasure chest, which he then shuttled out of the store. While trying to steal 12 Star Wars sets worth several hundred dollars from a Toys "R" Us in Wesley Chapel, Florida, he was arrested.[2] Kirkley was charged with possession of cocaine, possession of paraphernalia, resisting arrest, and grand theft.
9. The LEGO AR-15 Rifle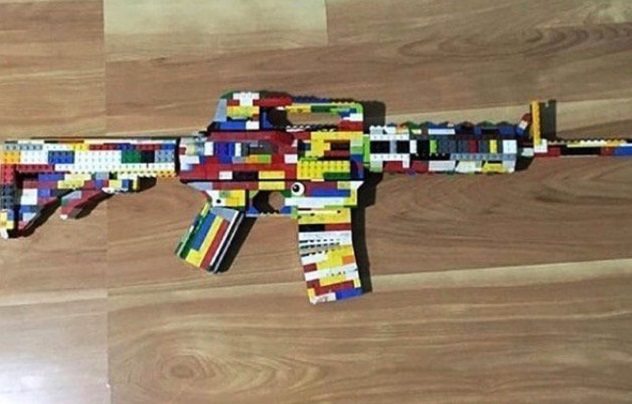 Photo credit: San Diego County Sheriff's Office/AP
The LEGO Group offers a website called LEGO Ideas that allows users to submit ideas for LEGO products, which, after passing a very rigid test, are turned into commercially available LEGO sets. In the guidelines for LEGO Ideas, the company notes what types of content are frowned on by its brand values, including nudity, sex, smoking, first-person shooter games, warfare, racism, and human-scale weapons of any kind. This policy, however, has not stopped everyone from creating projects of this nature.
In early 2018, a 14-year-old in the San Diego area of California posted a picture of an AR-15 rifle that was made of LEGOs along with a caption that read, "Don't come to school tomorrow."[3] When another student requested that the picture be removed, the poster refused. Police eventually tracked down the student and placed him in juvenile detention on a felony charge of making a criminal threat.
8. The LEGO Gun That Led To Police Opening Fire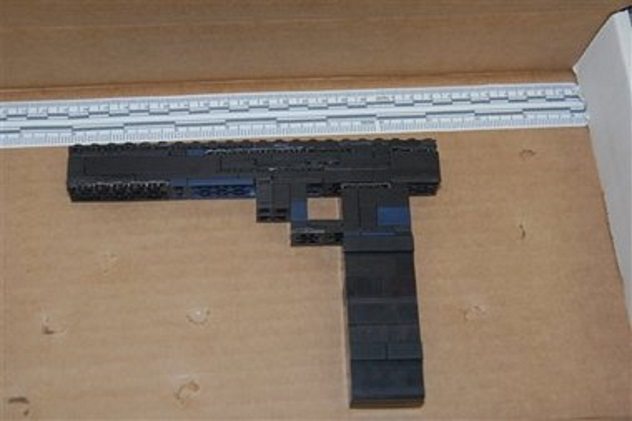 Photo credit: King County Sheriff's Office
It is a sad fact that each year, there are numerous tragic events involving people in possession of imitation guns which are mistaken by law enforcement for real ones, leading to deadly events.
In 2012, police in King County, Washington, received reports of a man who was waving a gun at passing vehicles.[4] The man refused to obey the commands of the responding deputy. After the man raised his weapon, the police officer fired, and the man quickly dropped to the ground. After emergency workers rushed to the man's aid, it was discovered that the weapon was actually made of LEGOs. It was later determined that the man was a resident of a nearby group home for the developmentally disabled and was fascinated with firearms. Fortunately, the man wasn't struck by any bullets during the event.
7. The Burglar Who Just Wanted To Play With LEGOs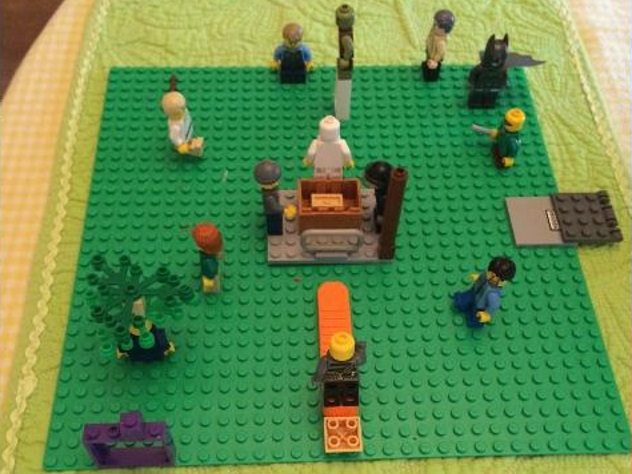 Photo credit: WVLT-TV
The record for largest LEGO structure is a 13-meter-tall (42 ft) replica of London's Tower Bridge made of nearly six million bricks. It holds two SUVs, and a drawbridge underneath can raise to allow a third vehicle to drive under it. LEGO structures of this magnitude are assembled by employees that the LEGO Group refers to as "master builders." Many people besides master builders, however, love playing with LEGOs.
In 2016, a man broke into a home in Alcoa, Tennessee, just to kick off his shoes and play with LEGOs.[5] The man had run away from his group home to avoid medication. A ten-year-old who lived in the house was located at a daycare across the street at the time the event happened. To be safe, law enforcement surrounded the house for an hour to make sure that the burglar was not armed.
6. Violent LEGO Videos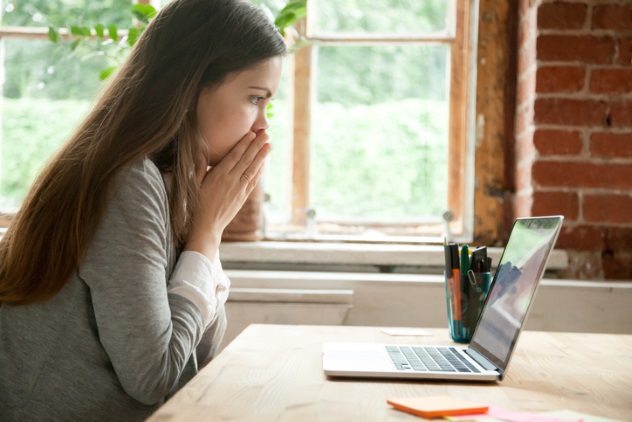 There is a long history of LEGO fan films. In the 1980s, animator Lindsay Fleary created a 16-minute short, The Magic Portal, using LEGO bricks. After Fleay sent the video to LEGO, the company expressed concerns about legal issues and demanded that Fleay surrender every copy he had of the tape. Eventually, though, the LEGO group began to support fan films. Today, there is even a Warner Brothers line of LEGO movies, including The LEGO Movie, The LEGO Batman Movie, and The LEGO Ninjago Movie.
Some LEGO fan videos, however, can still result in serious trouble. In 2016, a nursing home food service worker in New York even lost his job and became ineligible for unemployment benefits after posting homemade LEGO videos to Facebook depicting the man's coworkers in sexual and violent scenarios.[6] Some of the people who the man made videos about included the director of the nursing home, department heads, and two female coworkers. One of the videos was even called "Kill Buffalo Jill" and contained a mixture of rap songs, a Star Wars LEGO character holding a gun, and depictions of Uma Thurman in Kill Bill.
5. LEGO Torture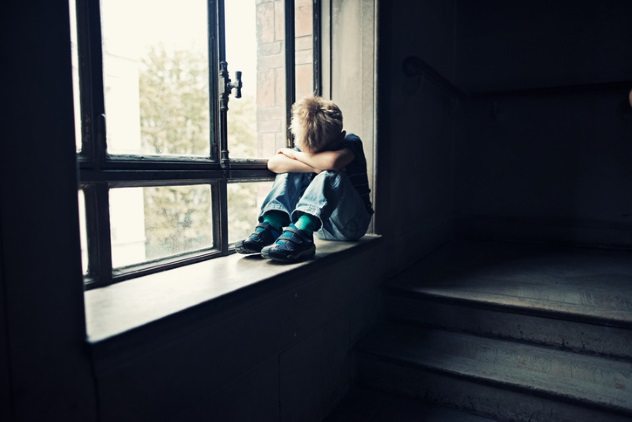 Stepping on LEGOs is a particularly painful experience. The reason lies in the fact that the soles of the feet are one of the most sensitive areas on a person's body because this area helps to keep a person balanced. LEGO bricks can also hold 4,240 Newtons of force prior to breaking, which means that when a person steps on one, there is nowhere for the force to go but into the foot, causing significant pain.
While stepping on LEGO bricks is mostly a fate suffered by parents and older siblings, in 2016, a particularly heinous offense was committed involving LEGOs.[7] A man in Brooklyn tortured his three-year-old son by shooting him with a BB gun, burning him, whipping him, and forcing the boy to kneel on LEGOs until he bled. As a result of this torture, the man was charged with multiple assault offenses, and the child was taken into protective custody.
4. Shopping Alone For LEGOs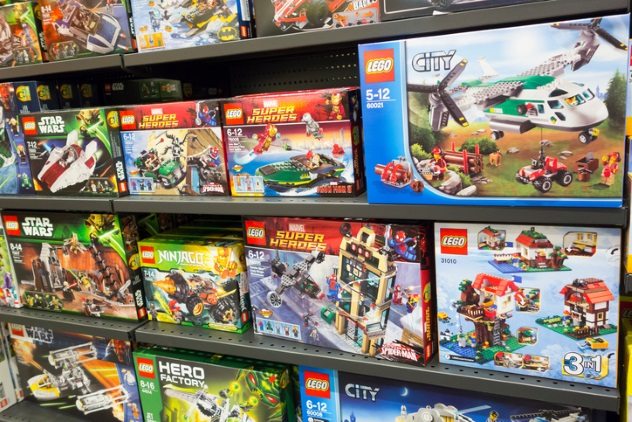 For many years, LEGOs were primarily played with by children, but over the last couple of decades, there has been an increase in the number of Adult Fans of LEGO (AFOLs). While AFOLs make up only five percent of LEGO's total sales based on the most recent statistics from 2010, this still represents a large number of users. One of the advantages of being an AFOL is that a person need not worry about getting into trouble for shopping alone, which has proven to be a problem among young children hunting for LEGOs.
There have been several cases of parents facing serious repercussions after deciding to let their children shop alone at the LEGO Store. In 2017, a mother in Ontario County, New York, was arrested and charged with endangering the welfare of her child after she let her ten-year-old browse alone at a LEGO Store for two hours while she shopped. A very similar event occurred in 2015, when a father let his 11-year-old son shop alone at a LEGO Store while he went elsewhere.[8]
3. LEGO Pills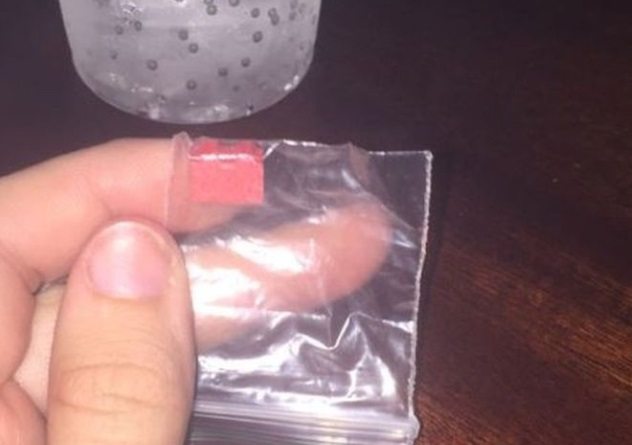 Photo credit: Greater Manchester Police
Many people are not aware that LEGO bricks from the 1970s and 1980s contain a number of highly toxic chemicals. These toys can prove to be particularly dangerous to consumers because they were not held to modern safety regulations. The ingredients in LEGO bricks have since changed significantly, though. In 2018, LEGO announced its plans to begin using nontoxic and safer ingredients in some of its pieces.
Old LEGO bricks aren't the only ones you shouldn't be swallowing, of course. In 2016, two women in Manchester, England, were taken to the hospital after swallowing drugs shaped like LEGO bricks.[9] The women reported falling unconscious at a club where the bricks were ingested and only later regaining consciousness.
2. Large-Scale LEGO Theft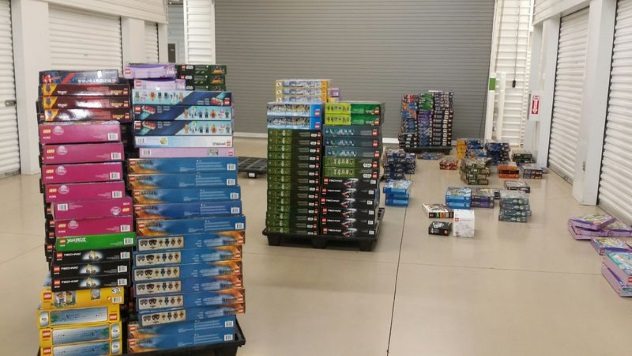 Photo credit: Phoenix Police Department
There have been several large-scale cases of LEGO theft. In 2014, police in Phoenix, Arizona, broke up an elaborate LEGO theft ring. The haul comprised more than $250,000 worth of LEGOs, which were found in the garage of a local realtor. It was determined that the realtor, Troy Koehler, bought the sets at a discounted price from shoplifters and then resold them at a higher price. Neighbors later reported that the man would get mysterious calls late at night.
This illegal activity does not even comprise the largest theft of LEGOs on record. That record might have been set in 2013, when a man in Massachusetts was charged with stealing $600,000 worth of Legos (as well as other retail items) over the course of the previous six years.[10] After stealing the LEGO sets from stores, the man sold them online. As a result of his crimes, he was sentenced to ten years in prison.
1. LEGO Batman Foils Crime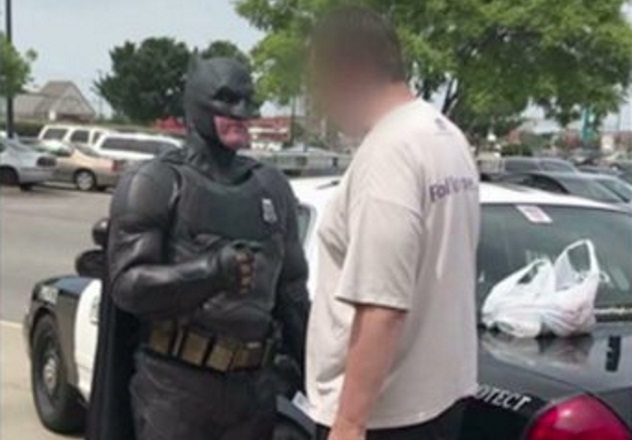 Photo credit: KDVR
While it once only sold LEGO bricks, the LEGO Group has expanded to include a wide array of products, including shirts, video games, clocks, and, as mentioned previously, several Warner Brothers movies. The last entry in this article involves LEGO films rather than LEGO bricks, but it's so unusual that it is worth a mention.
In 2017, a Fort Worth, Texas, police officer was helping to cheer up sick children in the hospital by visiting dressed as Batman as part of his work with the group Heroes and Cops against Cancer. While outside the hospital, the officer caught a man who was trying to steal a few movies, including The LEGO Batman Movie.[11]The officer proceeded to arrest the man and give him a citation rather than take him to jail because the DVDs were less than $100. In an even stranger turn of events, the man requested a selfie with "Batman" after the event occurred.